Penname:
ellabella1234 [
Contact
]
Real name:
ellen
Member Since:
09 Dec 2011
Membership status:
Member
Bio:
[
Report This
]
Reviews by ellabella1234
3 Up...3 Down
by
samekraemer
Rated:
NC-17
[
Reviews
-
726
]
Summary: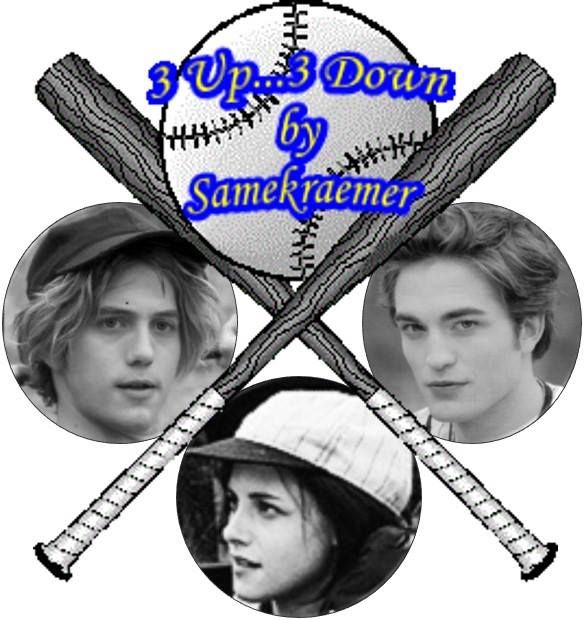 A baseball pitcher, a catcher, and a fact checker/aspiring writer. If love is so hard for two people, can three possibly make it work? Edward Cullen has two problems…First, he's in a secret relationship with his catcher that's very contentious at times. Second, his high school girlfriend, his first everything, is back in town. Will the three strike out or will it be the ultimate homerun?
This story is a poly/slash story. If that's not your cup of tea, then I'd urge you to find something else because it begins with a bang, literally. Edward and Jasper play semi-pro baseball, so there will be some baseball-related action, but it's not a full-on sports story. There will be a bit of violence and talk of domestic violence, but I've tried to be sensitive and will post a warning in those chapters. At its heart, it's a love story. It's just not a conventional one.
E/J/B and the rest of the cast. Alice gets someone, too. Very OOC/Sex/Some violence (nothing sexual)/Rated NC-17 for sex/language/ adult situations.
Categories:
Twilight
,
Non-Canon Pairings
,
All Human
Characters:
Bella/Edward/Jasper
Genre:
Erotica
Language:
English
TWCS Romance Contest:
Risqué
Series:
Stories I've Already read
Chapters:
69
Table of Contents
Completed:
Yes
Word count:
215194
Read Count:
217895
[Report This] Published:
22 Jul 2012
Updated:
06 Aug 2012
Reviewer:
ellabella1234
Signed
Date:
07 Sep 2012
Title:
Chapter 69: Chapter 69 - Epilogue Pt. 3
WOW really loved this story sad that it's ended thank you for taking me on a journey x
Revenge
by
Lovebeauty01
Rated:
NC-17
[
Reviews
-
14
]
Summary:
Edward Masen is the head of the the Masen Crime Syndicate. He and his brother Emmett lost their father ten years ago. Finally after years of searching they find the man that murdered Edward Sr. Unfortunately, it's not the man who ordered the hit. Edward and Emmett learn who did it. Now it's up to Edward to get revenge for the father they lost.
Categories:
Twilight
,
Canon Pairings
Characters:
Bella/Edward
Genre:
Drama
,
Family
Language:
English
TWCS Romance Contest:
None
Series:
None
Chapters:
2
Table of Contents
Completed:
No
Word count:
12303
Read Count:
1094
[Report This] Published:
04 Sep 2020
Updated:
13 Apr 2021
Reviewer:
ellabella1234
Signed
Date:
04 Sep 2020
Title:
Chapter 1: Chapter 1
Wow!! Can't wait for more