Penname:
LindseyGray [
Contact
]
Real name:
Lindsey Schnieders
Member Since:
23 Dec 2010
Membership status:
Member
Bio:
[
Report This
]
Stories by LindseyGray
Deliver Me
by
LindseyGray
Rated:
NC-17
[
Reviews
-
1
]
Summary: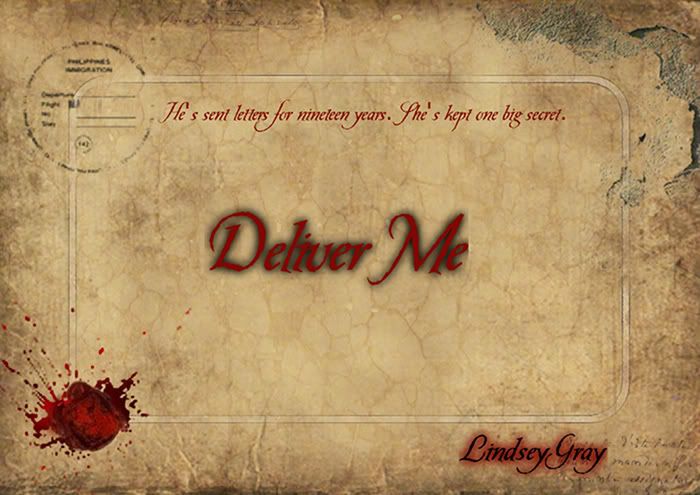 As the daughter of GOP Presidential hopeful, Daphne Gates lives a complicated life. Since her mother's death, she has taken over the role of the woman at her father's side. A role she never wanted nor enjoys. For the past nineteen years of her life she has been forced to keep a secret that could ultimately destroy her father's political career. All because she fell in love with Greg Bennett.
With only months left until the Republican National Convention where Preston Gates hopes to gain the nomination, there is an assassination attempt. The attempt leaves Preston unscathed but ends up rocking Daphne's world to the core. Greg is thrust back into Daphne's life and things immediately become more complex than ever before.
As Daphne lets Greg in on her secret, they forge a path to stay together, for good. With Preston's threats on the two of them and someone still stalking the Gates family, Daphne and Greg fear they won't reach the happily ever after they have been waiting almost two decades for.
Categories:
Original Fiction
Characters:
None
Genre:
Romance
,
Suspense/Thriller
Language:
English
TWCS Romance Contest:
Mysteries & Thrillers
,
Pure Romance
Series:
None
Chapters:
1
Table of Contents
Completed:
Yes
Word count:
1066
Read Count:
37
[Report This] Published:
28 Jan 2012
Updated:
28 Jan 2012
Summary:
Lily is one of only three vampires in known existence. After falling in love with a human, sexy and talented musician Ian, she realizes their love is putting him in mortal danger. She flees from her life in Boston to the solace of her frozen waste land.
As her past continues to haunt her, Ian seeks out the only family Lily has ever known. Becca introduces Ian to a world he never thought possible as they embark on a search for Lily, starting in the bowels of a mysterious company called The Manchester Group.
Will Ian and Becca find her? Or will the reemergence of a long lost love take a hold of their future?
Categories:
Supernatural
Characters:
None
Genre:
Supernatural
Language:
English
TWCS Romance Contest:
None
Series:
None
Chapters:
2
Table of Contents
Completed:
Yes
Word count:
4475
Read Count:
17
[Report This] Published:
17 May 2011
Updated:
17 May 2011
Summary:
How do you say goodbye to the love of your life when you are only twelve years old? Finn O'Malley and Lucy Butler had to figure out how to do just that as Finn left his home in Clarkstown, New York for Two Roads School of Music in California. Being a young talented musician, Finn thought it best for his future but wasn't sure about leaving Lucy behind.

Now, just one semester short of graduation and a promising future at UCLA, he throws it all away to return home. This leaves his family and friends questioning why.

The Finn that has returned home is not the same boy who left. He's broken and withdrawn. Lucy and his sister Rylan want nothing more than to bring back the Finn they know and love.

From the moment Finn reconnects with Lucy, he feels the one thing he hasn't felt in years—hope. As Lucy starts to bring him out of his shell, Finn begins to realize what real love really is.

When his past collides with his future, how will Finn deal with the love he needs and the love he despises? Can Lucy help heal what lies inside?
Categories:
Original Fiction
,
Romance
,
Suspense/Thriller
Characters:
None
Genre:
None
Language:
None
TWCS Romance Contest:
None
Series:
None
Chapters:
2
Table of Contents
Completed:
Yes
Word count:
5162
Read Count:
74
[Report This] Published:
23 Dec 2010
Updated:
23 Dec 2010