Penname:
TheNewestCullenKid [
Contact
]
Real name:
Jessii Whitlock
Member Since:
20 Jun 2012
Membership status:
Member
Bio:
I am twenty years old, from Toronto, Ontario, Canada. I started reading fanfiction a little over three years ago, when my best friend introduced me to it. After a year of reading, I decided to give it a try, my first two stories were horrible and I removed them from fanfiction. I currently have three stories; When Online Meets Offline, Sundown, and The Way It Was Meant to Be.
[
Report This
]
Stories by TheNewestCullenKid
Summary:
Traduction : Nous savons tous qu'Edward a abandonné Bella, brisée, au milieu de la forêt. Quatre mois après, un Cullen n'arrive pas à l'oublier. Suivez Bella et Jasper dans une histoire d'amour et d'amitié, de chagrin et de trahison. Des réponses seront données et des vérités seront apprises, parce que C'était la façon dont c'était censé être. L'histoire est traduite avec la permission de l'auteur.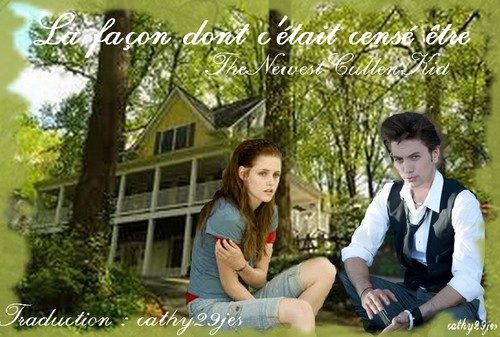 Categories:
Twilight
,
Non-Canon Pairings
,
Alternate Universe
Characters:
Bella/Jasper
Genre:
Drama
,
Romance
Language:
French
TWCS Romance Contest:
Happily Ever After
Series:
None
Chapters:
30
Table of Contents
Completed:
Yes
Word count:
84913
Read Count:
1991
[Report This] Published:
22 Dec 2012
Updated:
23 Aug 2013