Penname:
Imwiththevampires08 [
Contact
]
Real name:
Teresa
Member Since:
16 Feb 2010
Membership status:
Member
Bio:
Well, my name is Teresa and I am addicted to fan fiction. (Hi Teresa). Actually, I am addicted to Twilight and anything Rob related, but you know...
I write as a hobby, to take away the stress of real life. I'm a wife, mother, sister, daughter and friend. Like I said, I write to de-stress. I currently don't work, but I do go to school.
Anyway, I hope to get to know everyone on here and have faithful readers of my own. If you followed me over from Fanfiction.net, then welcome!! I'm so happy to see you!! If you are new, then I welcome you to my smutfest! Get ready for a wonderful ride!!
Much love to you all!
[
Report This
]
Stories by Imwiththevampires08
Wicked Angel
by
DevilishPleasures
,
NJNYTwiGals-H
,
lolafalana
,
Imwiththevampires08
,
NJNYTwiGals-P
,
Robicorn
,
Iadorepugs
Rated:
NC-17
[
Reviews
-
290
]
Summary:
am Edward Cullen and I have a deadly secret: I am a hit man. My new target: Isabella Newton. With the help of my friends, we plan the crime of the century. What the hell am I going to do when she becomes more than my target and becomes my life?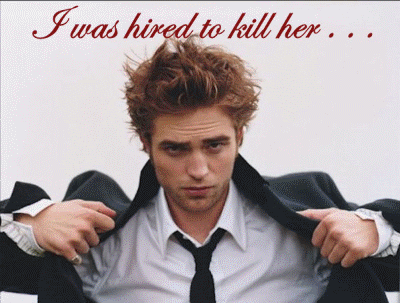 Categories:
Twilight
,
Canon Pairings
Characters:
Bella/Edward
Genre:
None
Language:
None
TWCS Romance Contest:
None
Series:
LeslieWhitlock's completed & recommended read stories
,
To Read
,
Amberina's Completed Favs List
,
G8or Favor8s Read
Chapters:
23
Table of Contents
Completed:
Yes
Word count:
125711
Read Count:
41518
[Report This] Published:
16 Feb 2010
Updated:
22 Dec 2010
A Story of Love
by
Imwiththevampires08
Rated:
NC-17
[
Reviews
-
6
]
Summary:
A one shot story following ExB from the time they met, to their happily ever after. Set for Valentine's Day and for Breath-of-Twilight's Countdown on fanfiction.net
Categories:
Canon Pairings
,
Twilight
,
All Human
Characters:
Bella/Edward
Genre:
None
Language:
None
TWCS Romance Contest:
None
Series:
None
Chapters:
1
Table of Contents
Completed:
Yes
Word count:
5690
Read Count:
282
[Report This] Published:
26 Feb 2010
Updated:
26 Feb 2010