Member Since:
12 Apr 2010
Membership status:
Member
Bio:
My obsession is Twilight and it has been since November 17th when I purchased Twilight at Frys Food Store. I bought the book because I wanted to see the movie coming out that Friday and like most people I had just found out it was a book. So, I read it in two days, saw the movie, fell in love with Rob, read Midnight Sun...I was done.
Next thing you know I am on the internet looking up blogs, getting as much information as I possibly can, but as detailed as all that is, I couldn't tell you how I stumbled upon fan fiction. I know it was around May of 2009, but all the details surrounding it was a blur.
At first, I was all about canon stories and ALL in EPOV. I didn't think I would like all-human, because it was different, but the first story I read was Don't Sleep In A Strange Man's Bed...done! Hooked! It was all over for me.
Have been crazy for it every since. I never had intentions on writing. I had always loved to write, but I didn't think that A. I could pull it off or B. I could think of a story.
I did Jacob's POV canon for New Moon called Warm Son and that is still on Fan Fiction, I stopped writing that story and started Ethics Be Damned..Ta Da!
It drives my husband crazy because I am up all hours of the night writting. It can't be helped and he married for better or for worse..
Yep, my obsession in a nut shell...so, enough about me, tell me about yourself.
[
Report This
]
Stories by krazyk85
Summary:
Being with them wasn't the problem, but losing me was. A life filled with sandy beaches and sunshine, I felt safe here. Nothing bad ever happens in SoCal, except maybe bad Mexican food. Or so I thought. This isn't your everyday love story. Based on the movie Savages.
For Annie, an Edward, Bella, Jasper- polyfic
Categories:
Twilight
,
Non-Canon Pairings
,
All Human
Characters:
Bella/Edward/Jasper
Genre:
Action
,
Adventure
,
Drama
,
Erotica
,
Friendship
,
Romance
,
Slash
Language:
English
TWCS Romance Contest:
None
Series:
None
Chapters:
44
Table of Contents
Completed:
Yes
Word count:
218114
Read Count:
42473
[Report This] Published:
22 Apr 2015
Updated:
11 Feb 2022
Chocolate Brown and Leather Whips
by
krazyk85
Rated:
NC-17
[
Reviews
-
435
]
Summary: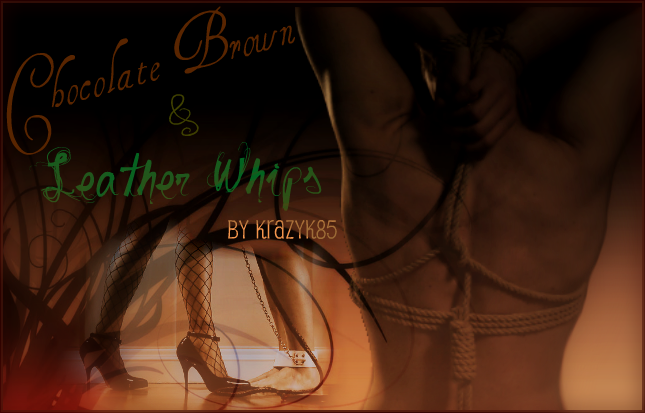 Banner created by xrxdanixrx
Edward Cullen is a 21 year old man who has the world at his finger tips. He has a great education, money, and plenty of women. The things he feels he's entitled to...but what happens when an innocent meeting with a beautiful, but older Isabella Swan at a coffee shop turns into something he never expected.
Will a hot and assertive woman like Bella, who likes to take control, finally be able to teach a young cocky Edward about life, sex, and women?
Thrust into a world filled with pain, pleasure, and all too consuming desire...Edward soon realizes it's a life he can't live without.
Chocolate Brown & Leather Whips teaser trailer by Emily Bowden
http://www.youtube.com/watch?v=HBsINM0Nu3Q
Teaser Trailer #2
http://www.youtube.com/watch?v=20q3OG5zRwQ
Categories:
Twilight
,
Canon Pairings
Characters:
Bella/Edward
Genre:
None
Language:
None
TWCS Romance Contest:
None
Series:
Wonderful World of Dommella
,
My all time favorites
,
Drive's Stories to read that are Completed and Not completed
Chapters:
49
Table of Contents
Completed:
Yes
Word count:
318670
Read Count:
85507
[Report This] Published:
08 Jul 2010
Updated:
30 Jun 2012
Ethics Be Damned
by
krazyk85
Rated:
NC-17
[
Reviews
-
489
]
Summary:
Banner made by xrxdanixrx
Bella Swan is a 28 year old woman who is a narcotics detective for the Seattle Police Department. Bella is assigned to go undercover as a high school student to bring down a massive drug ring fronted by the elusive Drug Lord Aro Volturi. Bella soon finds herself falling for her English teacher Edward Masen...
Edward Masen is instantly attracted to this new student, but can't pursue a relationship with a young girl.
Will these two keep things in perspective or will their ethics be damned?
Based loosely on 21 Jumpstreet and Never Been Kissed
Categories:
Twilight
,
Canon Pairings
,
All Human
Characters:
Bella/Edward
Genre:
None
Language:
None
TWCS Romance Contest:
None
Series:
Ageise02's not read yet
,
Drive's Stories to read that are Completed and Not completed
,
G8or Favor8s Read
Chapters:
35
Table of Contents
Completed:
Yes
Word count:
191208
Read Count:
70462
[Report This] Published:
12 Apr 2010
Updated:
23 Dec 2010